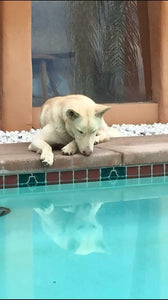 Can You workout your vision to focus
What an amazing concept that our eyes can use and need a workout to see and focus without the help of prescription eyeglasses. 
Let's look at how it is possible to exercise the muscles inside of our eyes for better focus. 
In order for muscles inside of our eyes to build strength they need space, there  cannot be any swelling or edema putting pressure inside of the eyes that would prevent contracting and releasing of internal muscles that hold and move our lenses to focus backwards and forward depending on distance of what  we are looking at. 
That is the place of magic to keep your eyes sharp for focusing close or far. 
The beauty of Replete Eye Restore function is to assure space in your eyes area by removing edema and swelling from the famous under eye gray bags that create pressure on your eyes. 
The Eye Restore also improves circulation in the eye area providing necessary nutrients for the eye to maintain its health and strength that helped me to restore my eyesight from stigmatism and inability to read or having glare day or night from any source of light. Now all is gone to my surprise and delight and I enjoy feeling free of discomfort. Similar accounts have been reported to me by numerous family and friends which inspired me to write this article for you.
---