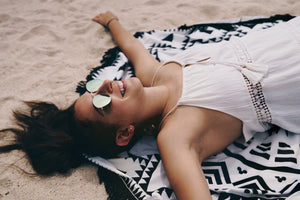 "How much more beautiful these young women would be.. how brightly their jewellery would glitter if worn on the skin bronzed by the Sun" Chanel
This is precisely how Coco Chanel felt about the Sun and the beauty it created for a young women. Coco Chanel was a Sun lover that inspired her to create first flip flop from a cork to protect her feet from burning beach sand. She is the one that created first beachwear with sailor navy stripes on dresses and sweaters. Her favourite time was spent on French Riviera in the Sun. She owned a fabulous Estate on french Riviera and spend every free moment at her home away from Paris.
Coco Chanel empowered women with soft waistline and jersey fabric to move freely and comfortably every day while looking elegant and stylish. She was the first to bring up the hemline for greater speed of walking. Freedom for women to live unconstricted life was her driving force for the design she created for women. This is exactly what Coco Chanel and Replete Skincare founder Elisabeth Thieriot have in common. The freedom to be outside without burning your skin that glitters under your beautiful jewellery and clothes women wear. Enhancing the freedom of expression in everything you do and are.
Be free, be you, be fabulous at any age.
---